As #Suffolkday is around the corner, I wanted to share an inspirational portrait and an incredible story from someone I met in 2019 and photographed as part of the Water, Mills and Marshes: the Broads Landscape Partnership funded portraiture project.

Ivan Humble
Ex English Defence League Regional Organiser
"I've been a Lowestoft lad all my life. I had the usual upbringing, to be fair it was pretty good compared to most on my estate.
I suffered with Mental health issues and had a craving to be normal. I started smoking cannabis, which helped in a way, but then I was spending a lot of time indoors, reading stuff, browsing the internet and stuff like that. I guess it all really changed in 2009.
Our troops had a homecoming parade in Luton and I remember seeing the abuse the troops were getting from some of the Luton residents. It was a real concern for me and I felt disgruntled.
I put a paragraph on Facebook, ranting about what had happened. Within minutes, someone got in contact and it felt like someone was interested in me and we talked for hours. He mentioned about a street protest and to be honest, you got to remember my life was shit at the time. It was a tough time. Suddenly I felt part of something. Within four months we went to a protest and it kicked off, people started to notice me and I was becoming something. I was becoming something in the EDL, it was like a football awayday. I felt like a man again.
I guess things began to change a little after a demo in Peterborough. We caused a lot of problems.
A couple of weeks later, the mosque we harassed invited us (regional EDL) back for a cup of tea and cake. I couldn't get my head around it. But that stuck with me for a year or so.
Life changed when I was in Norwich a year later. Two Muslim women passed me; they were at a religious meeting in the forum, so I followed them. I was angry, knocking on the windows. A man came out, an awkward silence followed, I had adopted a stance, ready in case something happened. I then said I'm EDL.. he moved towards me and hugged me, saying he had wanted to meet with the EDL for some time.
Over time we started talking weekly, monthly and gradually life began to change. It took a long time and was a slow process, but was really productive. I started talking to a former Jihadist in Ipswich and we understood each other. I learnt a lot from him and a bond was formed.
I now work with intervention charities and put something back into the community. Labels are dangerous, I've learnt that"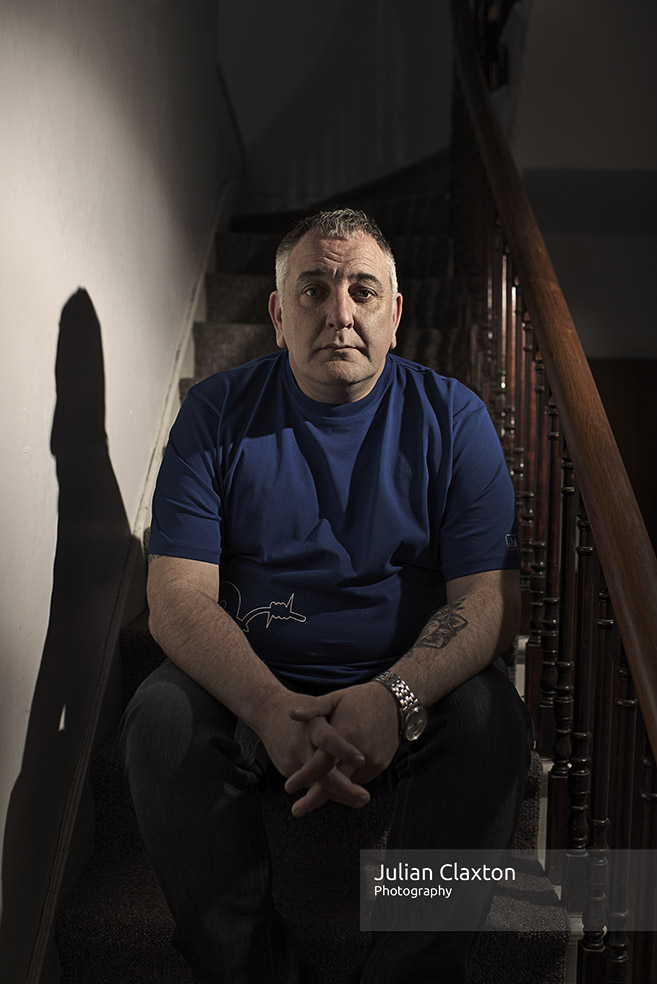 #suffolk #lowestoft #mentalhealth #lifechanging #access #portraiture